Facebook is working on a new Messaging App Called Threads
Facebook keeps on launching a new features on and off, but this time, the company is launching a new app that in inspired by Snapchat. The name of the Facebook Messaging app is Threads and it allows users to share their status, location and other main information with their close friends.
This application will act as a subordinate of Instagram and will let users to share their information with friends on Instagram keeping in view the privacy. Currently, the app is in the testing stage and Facebook has not revealed any information regarding it.
Facebook Messaging App will Ensure Privacy
We have come across some illustrations screenshots of Threads on social media which reveal that the app will work in the most facilitated way. Some of the features which we can see in the screenshots are automated sharing among users with their close friends' list of Instagram.
The app also facilitate users to go for automatic sharing choice that will update the status of user sharing the information with their friends. but one would not be able to share the real-time location due to privacy concerns. It will only notify your friends that you are moving somewhere.
Threads will let its users to update the status manually. Information sharing is not the main concern of the company as the main focus of it remains messaging. Like Facebook, one would be able to see online friends via dots.
The bottom line is that whenever your friends will post a story on Instagram, you will be able to see it on Thread. The app also facilitate users with a camera so that they can take pictures and sent it to their close friends.
Right now the company has not announce the launch date of Threads. So we had to wait and wait till Facebook launches it for everyone.
Android 10 is now available for Pixels with Dark Theme, New Gestures, Better Privacy
Those rumors were right: today, Google has officially launched Android 10 to the public. That is, the public that owns Pixel smartphones. This update of the new OS version is going out now to the Pixel, Pixel XL, Pixel 2, Pixel 2 XL, Pixel 3, Pixel 3 XL, Pixel 3a, and Pixel 3a XL. It will also includes the September security patches.
And it's a nice surprise to see the original Pixels still supported even though they are out of the official window for receiving platform updates. As always with Google firmware releases, it's likely it will take many days, if not weeks, for the new software to hit all of the devices out there in the wild. If you're a tinkerer who can't wait untill the phone gets official update then full OTA zips and factory images are available for manual installation, if you know how to proceed with those.
Android 10 drops the dessert names now that have so far been a staple of new Android releases, which is probably supposed to signify that the OS is all grown up – it is, after all, in two-digit version territory. Perhaps the biggest user-facing new feature is the addition of the Dark Theme in the phone, which has long been requested by Pixel users.
Android 10 Gestures
Additionally, Google has added a new gesture navigation system that gets rid of the navigation bar entirely, although it does got some confusing issues around the Back gesture interfering with the slide-out drawers that are still popular in a lot of apps. You win some (screen real estate), you lose some (consistency in user experience).
Android 10 Smart Reply
Smart Reply now suggests actions, not just replies as before, so if you get a message with an address or YouTube video, you can open the location in Maps or view the video in the YouTube app by simply tapping once in the notification. Smart Reply not only works in default app bit also works across all messaging apps too.
Android 10 Live Caption
Live Caption does as what its name implies for any video, podcast, and audio message across any app, including stuff you record yourself. This is coming "this fall", initially on Pixels.
And privacy options have been improved too, with a new setting that lets you only share location data with an app while you're actively using it. The new Privacy section in Settings contains controls for Web & App Activity and Ad Settings now in one place.

Project Mainline is an integral part of OS 10 and that means important security and privacy fixes will be delivered through Google Play, in the same way your apps update. That hopefully means you'll get such fixes as soon as they're available, without having to wait on your OEM to issue an OS update.
Android 10 Focus Mode
Notifications can be marked as Silent and they won't make noise or appear on your lock screen after that, and Family Link is now part of every device running Android OS 9 or 10. It lives in Settings > Digital Wellbeing, which also gains a new Focus mode. Once you select which apps you find distracting, going into this mode will silence them until you choose to come out of Focus mode.
There are many more new features in Android 10, and the official website has the full list if you want to take a deeper dive. To get an idea of what the new OS is like to live with, don't miss our review of the beta release. And stay tuned for our full in-depth look at the final, stable version.
Google Maps Live Feature Rolling out for Android and iOS Users
Google Maps live feature also know as Google AR navigation feature is rolling out to more people now. Previously the feature was launched for Pixel users. It is basically an augmented reality feature which guides you through the streets. For long, the feature was tested for walkers who were using the Application.
Google Maps Live Feature will make lives of Walkers Easier
No doubt, Google Maps has made our lives more comfortable, and by launching, this feature, the company proofs that it is trying to make this earth a more accessible place for its users. Both Android and Apple users will be getting this feature.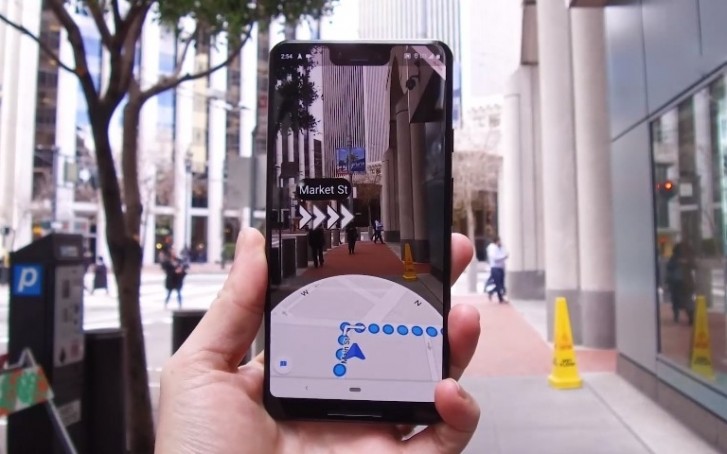 Android users need to have devices that support AR Core to use this feature effectively. Whereas, iPhone users should have an AR Kit for Google AR feature.
All you need to do is to select a waypoint on the map and tap on the walking directions. If you are done with it, click on the Live View option at the bottom of the screen. By using the phone's camera, you can easily recognize streets by getting visual directions in real-time.
Right now the feature has not landed to Pakistan as I can't see it on my mobile. Let's see when this feature will launch for us and how much will it be effective.
How to Change Whatsapp Messages Fonts?
WhatsApp is the most widely used platform and has gained fame due to a variety of features. It status feature is the most commonly used, and people use it more than the instant messaging service provided by the app. Thanks to the messaging platform, that we can share different files. However, till now, we never knew that we could also change the font of WhatsApp messages. Yes, I knew that we could try some new fonts when it comes to WhatsApp status however knowing that we can also change WhatsApp Fonts of Text messages, I am very happy.
How to Change WhatsApp Messages Fonts?
So now you can change the WhatsApp text into monospace, bold, italic, and can also insert a strikethrough result. It is surprisingly simply to change the WhatsApp font.
Creat WhatsApp Monospace style:
It is very easy to change the WhatsApp font to Monospace style. You need to follow these steps:
Type a certain icon before and after the words in question
You can insert a backtick icon by pressing the apostrophe button.
By placing three backticks before and after a word will add monospace to it.
How to Change WhatsApp font?
Yes, you can change your text to bold, italics and strikethrough words. Just follow these steps:
Type one Asterix * prior your text, and it will convert to bold.
Tap on underscore _ and add it to any side of your text to get the italicised message.
You can create strikethrough by adding a tilde ~ before or after your text.
See all the steps are soo easy. All it needs is a little bit of practice.